Nothing can take our eyes off from a beautiful garden. Gardening is becoming more and more a necessity now-a-days because it not only adds color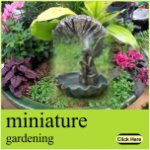 toour home but keeps our mind & body relaxed with its beauty. Those days are gone where people used to have custom designed gardens that are meant only for earthen landscapes. Today gardens are also grown in containers that can be moved to any place around the house such as roof tops, balconies, kitchen counters etc. Gardening involves various steps like planning, planting, watering and maintaining the right environment to make it successfully grow. The process sometimes will be quite confusing if you are totally new into gardening. For the convenience of readers, we have brought together certain beginners tips in gardening.
Beginners Tips:
Selecting plant
To get started with gardening, you need to select right kind of plants based on design and theme. If there is no specific gardening design, follow your instinct and be creative in choosing the colors and types. You may refer or get some tips from your neighbors or visit local store to get some gardening ideas. Not all plants are suitable for all temperatures. So choose plants that grow well in your local weather conditions or that can sustain longer throughout the year. If the gardening space is very limited, you can even opt for containers or hanging planters with different flower and vegetable types. In fact, most of the gardeners now-a-days are showing interest in planting herbs because they not only add fragrance to the garden but can make tasty additions to culinary items.
Gardening supplies
No matter how big or small the garden is, there are certain supplies that are mandatory like seed starting soil, compost, fertilizers etc for every garden. Container plants are less affected by pests and weeds. So if it is a pot gardening, there is no need to bother about buying synthetic pest control chemicals, rather natural or organic materials like neem oil can be used in little quantities. Sometimes, buying garden supplies all at once can be more expensive. So try to plan in such a way that it can be done in batches if the garden landscape is very big.
Basic gardening tools
Trowels, cutters, pruners, snips, scissors, hoes are some of the basic tools that can be used for lifetime once purchased from a good brand. It is also important to have some good gloves, ankle boots and knee pads to protect your exposed parts while gardening. Well, again the tools depends on the trees and plants that you are growing in your garden. If they are small plants & shrubs then there is no necessity to go for rugged ones, otherwise you may need big garden tools to care for your plants.
Environment
The type of plant that you choose for gardening depends on whether it is indoor or outdoor. Indoor gardening plants generally do not need more sunlight and they can be grown with little resources like soil and water. Since outdoor gardens are more exposed to outside whether conditions the water needed for plants will be more in case of extreme dry weathers. It is fun growing tasty and nutritious vegetables and herbs in your garden. However, growing vegetables is seasonal, as some may grow well in spring & summer while others come up only in winter cold weathers. To ensure good output from your garden, try to provide correct type of environment and right amount of water based on the season of the year and plant type.